Description
webadmin.php is a simple Web-based file manager.
Deutsch, Français, Italiano, Netherlands, Svenska, Español, Dansk, Türkçe, Čeština, русский язык, Polski, English
Download
webadmin.php.gz (gzipped)
Requirements
Screenshot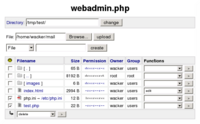 Author
Daniel Wacker
License
webadmin.php is free software under the GNU General Public License as published by the Free Software Foundation.
Frequently Asked Questions (FAQ)
Why are there missing some functions (delete, upload, rename, etc.)?

Appropriate file permission is needed.

Why is there no configuration option to restrict the functionality of webadmin.php?

It's the job of your operating system's kernel to restrict system users' actions.